Mehran Baghaie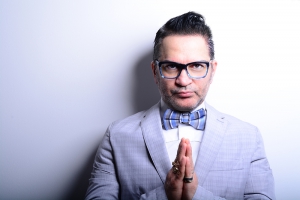 For Mehran, Director & Chief Designer at Spectacle Eyeworks, being labeled as conventional would be the ultimate offense. This self-appointed 'freak' thrives on change and deviance from the norm. He uses his limitless creativity to shatter the boundaries of conventionalism and to take inventiveness to a higher level. With almost thirty years in all facets of the Optical Industry, Mehran has always had a yearning for the design aspect of the industry. This voyage began in 1996, with the inception of Spectacle Eyeworks Inc.
Mehran has an unrelenting craving to be recognized along with an avid passion for fashion. Naturally, his main goal is to portray eyeglasses not as a necessity, but as a fashion accessory. The fact that sales at Spectacle Eyeworks have maintained strong since its inception attributes to this mentality.
A long way from its humble beginnings of just four frame styles, Spectacle Eyeworks, the company's first line, is now comprised of over hundred styles including one which won "Eyewear of the Year Award" at the prestigious International Optical Fair of Tokyo. The addition of three other original-concept lines has more than demonstrated Mehran's versatile nature. A combination of extreme confidence, a fascination and his own life experiences are the inspiration for the Spectacle Eyeworks, Pussy Galore, RETRO and Wood & Horn collections.
Mehran's passion, fearlessness and ingenuity, not to mention the fact that he gets bored easily, will guarantee that there is no end in sight to this unconventional virtuoso.